The Sunflower offers evening and night ferry services.
The brand-new evening ferry launched in 2017 features more comfortable rooms, private accommodations, and new rooms where passengers can stay with their pets, too!
You can also relax and enjoy yourself in the restaurant and other open, public spaces.
The evening ferry is recommend for travelers in search of a relaxed cruise experience.
Time Table
This site introduces MOL Ferry's timetable for Oarai Port (Ibaraki Prefecture) and Tomoakomai Port (Hokkaido). Please click here to see the timetable for the evening and night ferries.
Evening Ferry
The Sunflower Sapporo and Sunflower Furano, provide evening ferry service, offer a range of cabin selections.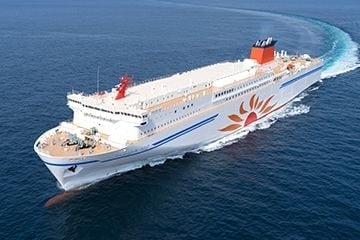 Night Ferry
The Sunflower Shiretoko and Sunflower Daisetsu, which provide night ferry service, are recommended for casual, relaxing travel.